Prospecting new veterinary clinics is a key part of a successful animal health manufacturer's sales campaign. Constantly growing and expanding the customer base through new clinic acquisition is a key part of developing the brand and increasing market share. Traditionally, identifying and qualifying new clinic prospects involved sales reps spending hours on research, whether that be on the internet or out in the field. Today's sales reps are busier than ever, and it is not unusual that time spent managing current customers leaves little time for prospecting efforts. Our customers had sales teams that were struggling, and they came to us for help. As the industry leading data provider, how could AGDATA help their sales forces identify qualified leads for new business?
The Power of the Clinic Prospecting Solution
To address our customers' needs, we happily stepped up to the challenge by creating the Clinic Prospecting Solution. This easy-to-use, configurable tool enables sales reps to quickly identify new business opportunities and prioritize those opportunities based on their potential. Prospective veterinary clinics are segmented according to type (small animal or production animal) and size to give a rep a clear view of which ones to target. Additionally, clinic phone and email addresses are provided, allowing for easy contact and inclusion in sales and marketing campaigns.
AGDATA's Clinic Prospecting Solution is integrated into a customer's data analytics. The manufacturer's current customer list is cross-referenced against AGDATA's master prospect list, giving the manufacturer a clear view of clinics they do not currently do business with. In addition to being provided in list form, these prospects are plotted on an interactive map that allows reps to filter and sort by specific locations. Dashboards are filtered according to the manufacturer's territory alignments, allowing each rep to have their own prospect list and dashboard. The Clinic Prospecting Solution also integrates into the AGDATA CRM, allowing for reps to manage and update their prospect lists while in the field.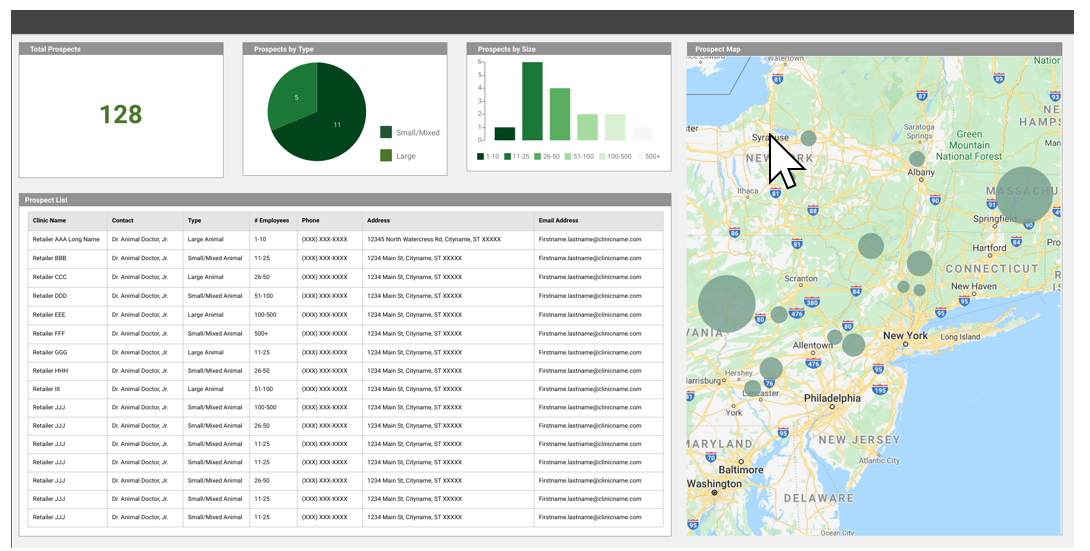 Sample dashboard showing the Clinic Prospecting Solution dashboard at the territory level.
Take your prospecting further
The creation of the Clinic Prospecting Solution illustrates AGDATA's commitment to helping our customers in innovative ways. "We have a long history of providing animal health companies with insights that enable them to more effectively sell into their current customer base. This is an exciting new addition that enables them to efficiently target and generate business from new customers," says Michael Umbach, AGDATA's VP of Product Management.
Are you an animal health manufacturer who wants to know where you're missing business? Contact us for a full solution demo or more information.
---
Subscribe
So you never miss an update!